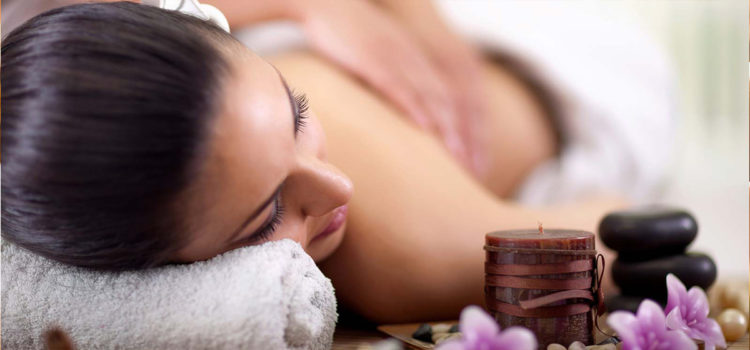 Sri Lanka has always been a place that refreshes not just the mind and body, but also the soul and spirit. And for thousands of years, the most popular method used to restore and rejuvenate tired bodies and weary souls has been Ayurveda- the oldest and most holistic medical system available in the world. Based on indigenous native and Indian medicine, it draws not only on a deep understanding of physiology, but also elements of philosophy, psychology and spirituality. It was so influential that traditional Tibetan Chinese medicine and Greek medicine embraced many of the concepts introduced by Ayurveda.
According to legends in the 6th century BC, the Prince Vijaya was banished from his Indian kingdom, sailed to Sri Lanka and become the island's main ruler. He was skilled in the practice of Ayurveda and so, together with his personal physician, introduced the practice of Ayurveda to the island. Over the years, Ayurveda incorporated elements from similar indigenous Sri Lankan treatments to become the fusion of forms it is today.
More Ayurvedic practitioners than Western doctors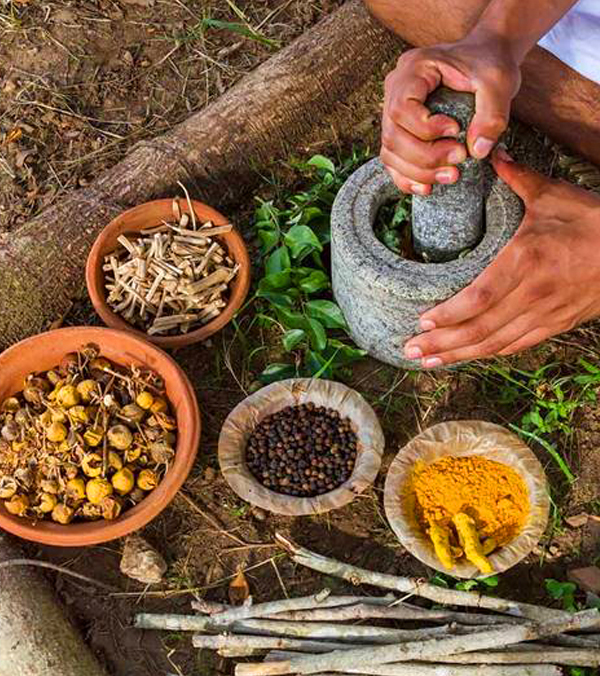 In Sri Lanka's villages, Ayurveda is not considered a special treatment as in urban areas but an everyday method of treating aches and pains. In fact, the number of trained Ayurvedic practitioners in the island exceeds that of Western doctors.
Even those familiar with traditional spa treatments in the West (like aromatherapy and shiatsu) will find Ayurveda a new experience. And it's an experience that's becoming increasingly sought after. Such seekers will find Sri Lanka a singular destination, for all that collective wisdom regarding Ayurveda can be experienced in stylish and refined spas, with some of the world's best professional therapists – with that friendly and courteous Sri Lankan manner.
Ayurveda – "The Science of Life"
The name comes from ancient Sanskrit: Ayuh or "life" and Veda or "Science". So Ayurveda translates as "The Science of Life," a fitting name for a system that devotes itself to a truly holistic approach to the ways the body and mind can be treated.
At the heart of Ayurveda is the theory of the Tri Dosha or "The Three Vital Forces": Vata (wind), Pita (fire) AND Kapha(earth). In each of us is a unique combination of these forces or Doshas that help define our nature. Vata people are thin and energetic; Pita people are more intense and goal-oriented, while those with a Kapha disposition are methodical and nurturing.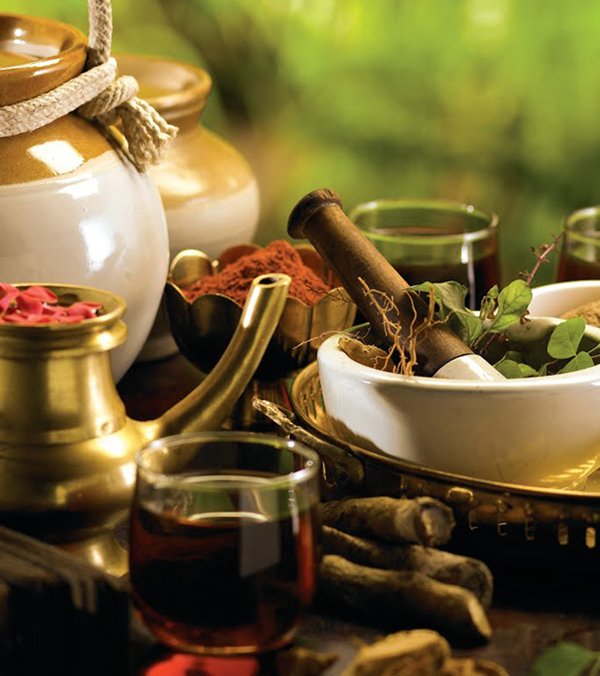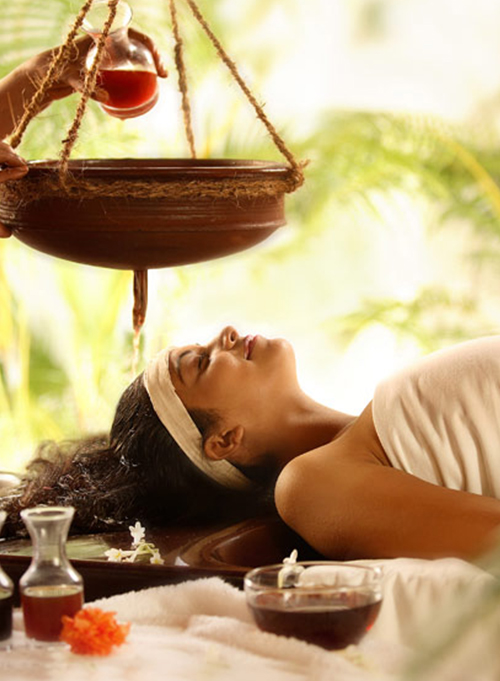 When the Doshas are in harmony the body is in good health, but when equilibrium is affected, balance needs to be restored –Ayurveda provides the answer. Ayurvedic practitioners will initially meet you with the objective of getting to the root of whatever is ailing you. Details of your diet and lifestyle, your habits (good and bad), and your general environment, will be requested. The practitioners will also carry out a physical examination and find out details of your medical history.
Practitioners employ many of the medical herbs and plants native to Sri Lanka. They combine leaves, bark, berries, roots and flowers to created bespoke potions, oils and unguents tailor-made for the individual. Incidentally, in Ayurveda there is a belief that it's not just people but also plants that can get sick – so only "healthy" plants are used.
Swedhana, Pizhichil & Shirodhara
Inside the tranquil settings of the spa, therapists will help you decide, which of the range of therapies to adopt.
In Swedhana you are placed in, or on, a wooden chest in which herbs are boiled and the resulting steam escaping through perforations embraces your body, helping to extricate impurities.
Pizhichil is somewhat different, consisting of a relaxing massage – sometimes using two therapists – in which soothing oils are rubbed into your joints.
Another treatment is Shirodhara ("Third Eye Drip"), in which oils and other liquids are gently poured from a special vessel onto the 'third eye' on your forehead for 30 minutes. Profoundly relaxing, this treatment is used for conditions such as headaches and mental tension.
Later you can indulge in a flower bath, in which you lie submerged in a warm pool of blossoms, scented with fragrant flowers and sandalwood – an experience designed to reset your body as it prepares to return to the real world.
Other treatments which can be added at the discretion of your therapist include:
Gandusha (herbal gargling)
Akshitarpana (eye-care)
Karnapurna (ear-care)
Shirovasthi (head oil treatment)
Kativasthi (back oil treatment)
Since Ayurveda is concerned with treating the inside as well as the outside of the human body, you can also try Sri Lanka's delicious foods prepared in an Ayurvedic manner, which are grown in the field, freshly harvested, and prepared using authentic herbs and spices sourced locally.
In Ayurveda, food is classified into six taste categories: sweet, sour, salty, bitter, pungent and astringent.
Ayurvedic philosophy recommends you have these categories in every meal to achieve the proper nutritional balance. As important as the right mix of ingredients is the proportions: over-eating or eating before the previous meal has been digested is liable to cause an imbalance in the Doshas. Eating in moderation and at the correct time is central to the proper fulfillment of an Ayurvedic diet.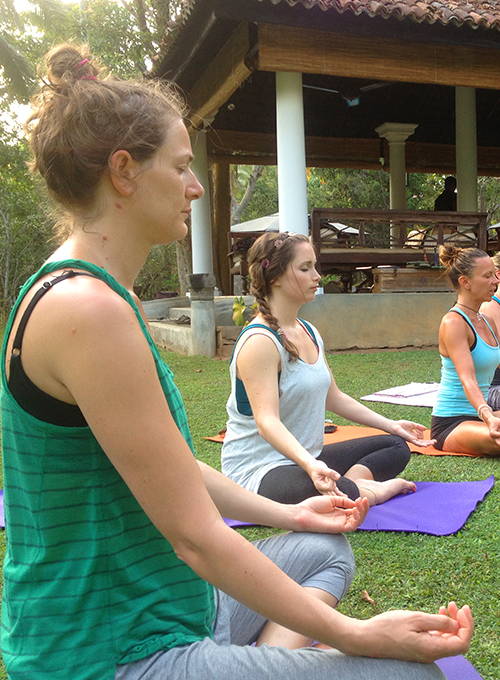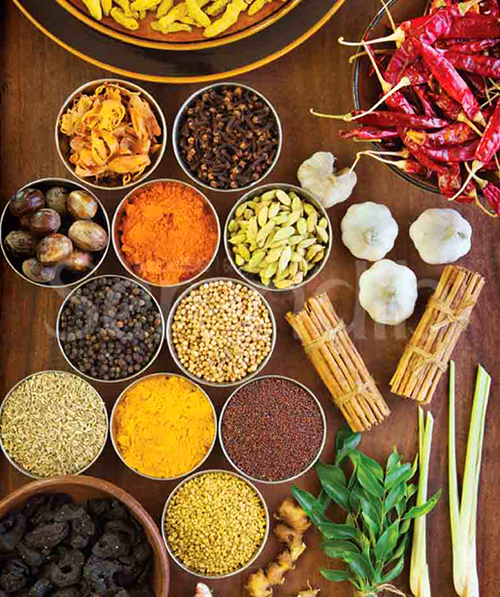 Useful on day-to-day basis learning about various methods – nutritional, physical or spiritual – you can take home and adopt in your everyday life. After all, it would not be true to the holistic nature of Ayurveda if the benefits were to stop after your holiday ended.
Before your return, why not purchase some Ayurvedic products?
 Uduwarthana powder contains white sandalwood, turmeric and venivil leaves: when blended with milk it makes an excellent facial treatment.
Ksharabala, on the other hand, is oil used for treating nervous disorders from the entire babilaplant and over 40 additional medicinal herbs.
Many Sri Lankan Ayurvedic centres offer complementary therapies, such as yoga, reflexology and meditation, under the tuition of highly trained therapists. This will enable you to put together a bespoke treatment course. So a visit to an Ayurvedic spa may not just allow you to leave Sri Lanka feeling healthy and relaxed – but spiritually rejuvenated as well – truly a wonderful experience indeed.
What's more, you can enjoy the pleasures of an Ayurvedic spa in some of the most tranquil and serene settings in Sri Lanka – on a golden south coast beach, near the ancient city of Polonnaruwa, the verdant hill country of Kandy, and even in a traditional village setting with no electricity, and mud huts for accommodation.
When you finally emerge from such exotic settings feeling refreshed and uplifted, you'll understand you've learnt something truly profound through your experience with The Science of Life.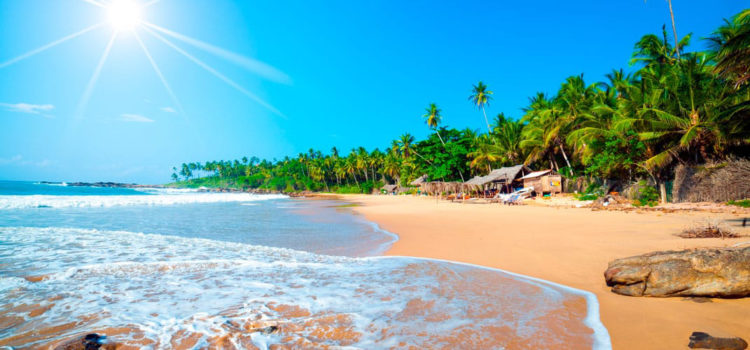 Toes curling into the finest sand.
The aquamarine blue waves of the Indian Ocean gently unfolding on the golden shore.
A fresh coconut sipped in the shade of wind-whispering palms.
A (not- too- long) bask in the early morning or late afternoon sun.
A cool-off in the vast expanse of sun-glittering sea.
Some of the delights of Sri Lankan beach.
Where beaches are concerned you will be spoilt for choice in Sri Lanka. Beaches totaling 1,350km fringe the island, from the long-established tourist destinations of the southern coast, to the vast beaches of the deep south, and the less-visited expanses of the north and east. No matter what time of the year, you can find a beach that is in season and just waiting to welcome you to its warm sands.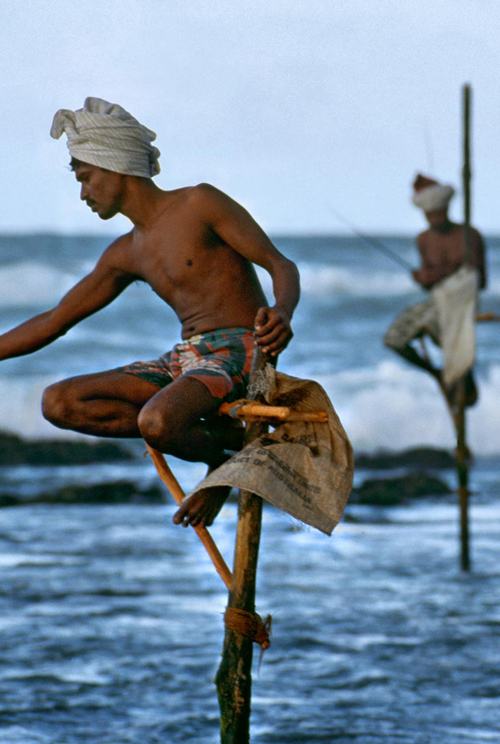 Most visitors to Sri Lanka head to the beach destinations of the southern coast, mostly situated south of Colombo. Each destination has developed its own distinctive character and highlights, and all are within easy reach of the capital. Let's start with Negombo (37km from Colombo), situated only 6km from the Bandaranaike International Airport and therefore an excellent option for those on a short trip to the island or restricted to Colombo. The town has a long history of tourism and a wide beach, but also tempts the visitor with Dutch canal boat tours, a colourful fish market, and lively bars after dark. Equally convenient for those visiting the capital is Mount Lavinia beach – a mere 12km south of the city centre. The beach is a great place to stroll in the evening and on holidays, and enjoy dining at one of the many and varied restaurants. Recently it has become a night-time destination for some of the most high profile parties in Colombo.
Moving down the coast, the visitor leaves the urban sprawl and begins to sense the more relaxed nature of the south-west coast. Wadduwa (35km from Colombo) is a favourite weekend destination for many Colombo dwellers and features one of the most beautiful hotels on the coast.
Kalutara (42km from Colombo) hosts a number of star-class hotels, another typically stunning beach, and also a majestic three-storey Buddhist temple, which has the world's only hollow stupa. The road finally joins the coastline after crossing the railway tracks at Payagala and from this point onwards you are treated to a stunning drive overlooking cove after cove of pristine beach.
Bentota (62km from Colombo) remains one of the most delightful beach resorts of this coast with large star-class hotels, exclusive boutiques, and even the delightful gardens of Bevis Bawa – brother of Sri Lanka's most famous architect. On top of all this, Bentota boasts wide, picturesque beaches, and the Bentota Ganga (river) on which tourists can take a cruise inland or take part in water sports. From Bentota onwards, beaches stretch before the visitor consistently through Induruwa until finally we reach Hikkaduwa (98km from Colombo) – one of the most famous beach resorts in the island. Hikkaduwa is renowned for its diving and coral reef, as well as its surfing and nightlife.
The historic port city of Galle(116km from Colombo) with its UNESCO World Heritage Site – the Dutch Fort – and boutique hotels a little beach. But just south of Galle is the famous beach of Unawatuna (120km from Colombo) which continues to be a favourite of most visitors to Sri Lanka in search of sun, sea and sand. Unawatuna was voted among the top 12 beaches in the world and boasts excellent diving, a relaxed atmosphere and lively nights. Most accommodation here is of the guest-house variety suited to independent travellers. For those looking for luxury accommodation, it would be wise to stay in Galle Fort and visit Unawatuna during the day.
Throughout the stretch of beach from Negombo to Unawatuna there is ample opportunity to take part in water and beach-sports, experience the highest standard of service and accommodation, and yet still be within easy reach of the capital and the airport. The best time to visit the southern beaches is from November to April when the sun shines temptingly while the monsoon is on the east coast.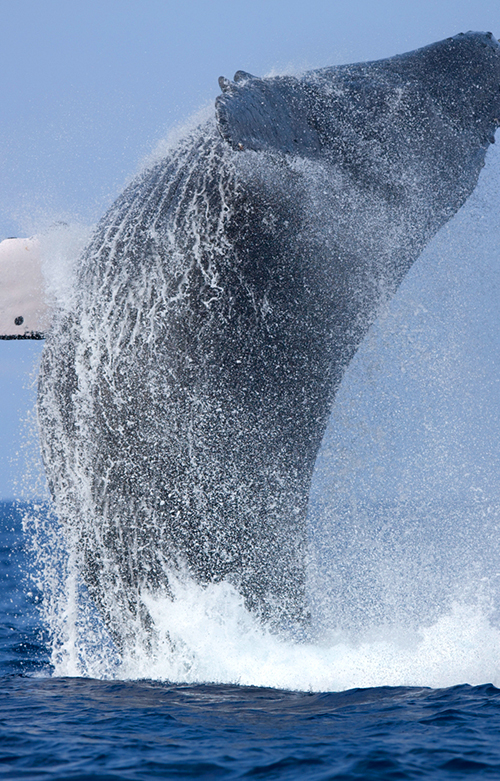 For those who are happy to travel slightly further comes the joy of new discoveries, and of remote beaches in the deep south of Sri Lanka. Weligama bay (143km from Colombo) is simply picturesque, with stilt-fishermen perched out to sea and catamarans gliding by. For those who are looking for something special. Taprobane Island can be waded to from the bay.
Just past Weligama lies Mirissa (155km from Colombo), which many feel is the best beach destination in the deep south as it retains an unspoilt fee land features a beautiful cove. A favourite with surfers, Mirissa is a place for the sporty and laid-back traveller. Finally on this stretch of coastline comes Tangalle (195km from Colombo), which boasts stunning deserted beaches that stretch as far as the eye can see, and the chance to watch turtles at Rekawa, and visit the nearby rock temple of Mulkirigala with its cave paintings and unforgettable views of the countryside.
For a truly pristine, unadulterated beach experience, there is no place better than the east coast. Nilaveli and Uppuveli (271km from Colombo) lie to the north of Trincomalee and have for many years provided warm hospitality on stunning wide sandy beaches. Offshore liesPigeon Island – a treat for divers with its vibrant coral gardens and swarms of tropical fish. From here the visitor can also discover hot springs, the fifth largest natural harbour in the world at Trincomalee, and numerous revered Buddhist and Hindu temples.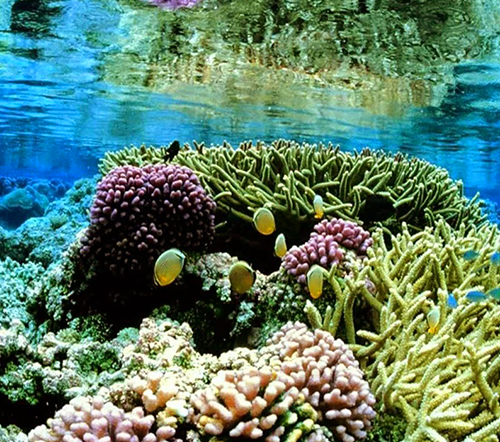 Near Batticaloa are Kalkudah and Pasekudah beaches (346km from Colombo), which are the least –visited on the east coast. Altogether they form 6km of fine sand and calm aquamarine seas that benefit from the protection of an offshore coral reef. Finally, on the east coast is Arugam Bay (314km from Colombo), with its well-established surfing scene and untouched beaches that stretch both to the north and to the south of the town. Close by is the Lahugala National Park, which hosts an array of tropical birdlife and herds of elephants.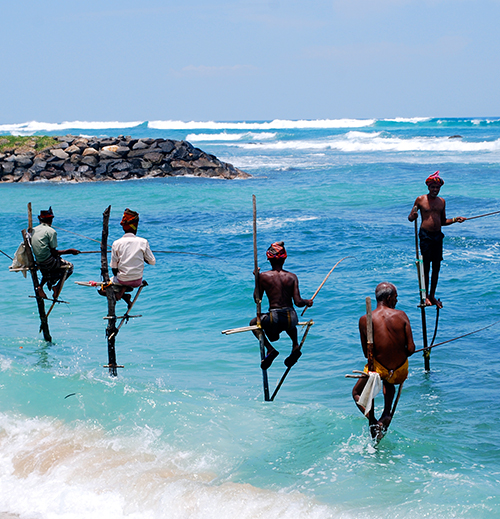 The north of Sri Lanka offers its own distinctive beach experience, with offshore islands dotted around the Jaffna (396km from Colombo) coast, virgin beaches fringed with Palmyrah trees such as the famous shallow transparent waters of Casuarina Beach, and the wild and unforgettable sand dunes of Manalkadu. On the north-west coast of Sri Lanka is Kalpitiya (150km from Colombo)with its pristine beaches and azure sea which plays host to dolphins and whales during the season, and is also home to the famous Bar-Reef – the largest coral reef in Sri Lanka.
The best time of year to visit the pristine north and east coast beaches is from May to September.
Wherever you choose to lay your towel, be sure to take plenty sunscreen and water with you. Even when cloudy, the tropical sun is extremely strong and the wise visitor will either cover up with clothing or with sunscreen. Remember that dehydration can be a major problem if you spend time on a tropical beach. Finally, please respect the beach environment, refrain from littering and don't buy illegal souvenirs made from corals or turtle shells.
For divers, places to visit are Negombo, Hikkaduwa, Unawatuna, Weligama, Mirissa, Tangalle, Pigeon Island and Bar Reef near Kalpitiya. Not only will you encounter exotic reef fish and some of Sri Lanka's 138 species of corals, but you have the chance to dive on some of the island's submerged shipwrecks. If you prefer to remain above water but love sea-life, then there is the chance to go whale and dolphin-watching in Mirissa, Trincomalee and Kalpitiya. For those who like to surf then head for Hikkaduwa and Arugam Bay.
Whether you yearn for a five-star beach resort, a laidback surfer's paradise or a wreck dive among multi-coloured tropical fish, Sri Lanka has the right beach destination for you. Amazingly, all of these beaches are within a day's journey of the capital – a journey that reveals many of the different aspects of the island's physical diversity – all in all, truly a wonderful experience indeed.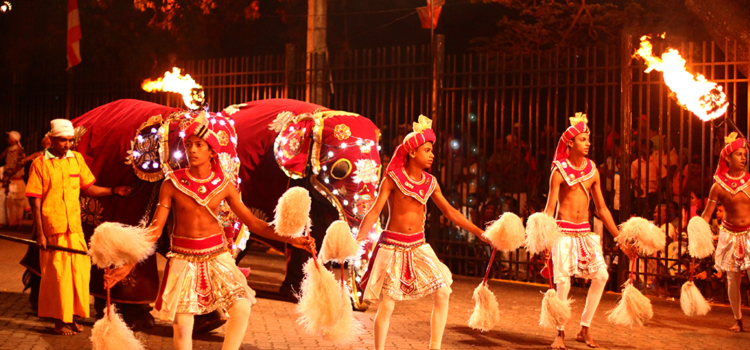 Sri Lanka's ancient civilization endows with a legacy of colourful festivals relating to the Buddhist, Hindu, Muslim and Christian religions. Hardly a month goes by without a unique celebration rooted in the island's tradition. Furthermore, these festivals are commemorated with the flair of people with a genius for pageantry and ritual.
Every full moon day in Sri Lanka is known as Poya a Buddhist public holiday in which adherents dress in white to visit the temple from dawn until dusk to pray, meditate and listen to religious discourse. The 12 Poya days each year are individually named and connected to the events of the life of the Buddha and Buddhism.Duruthu Poya, the initial full moon day of the Gregorian calendar, commemorates the Buddha's first three visits to Sri Lanka. The Kelaniya Raja Maha Viharaya or Kelaniya Temple, near Colombo, hosts a perahera, literally "procession", to mark this symbolic event. The perahera is a spectacular aspect of Sri Lanka's festivals in which an array of traditionally-attired dancers, drummers, whip-crackers, acrobats and enrobed elephants, participate.
For foreign visitors it's one of Sri Lanka's most appealing cultural attractions.
Thai Pongal, the Hindu harvest festival, is celebrated on January 14 in Hindu homes and temples throughout the country. Worship at the kovil (Hindu temple) is mandatory for adherents to the faith. Special rituals such as the cooking and ceremonial consumption of traditional sweetened rice called pongal are held at home . An observance of creative nature, kolam, involves making intricate floor motifs with flour. In rural areas, a sequel known as Madu Pongal follows. Domestic animals are washed and fed, auspicious red colour smeared on their foreheads, and finally they are garlanded with marigolds.
Colombo's grandest open-air art festival, Kala Pola, is held on the third Sunday of January at the exhibition grounds of the Viharamahadevi Park in Colombo. Sri Lankan artists and sculptors from all over the island are given a chance to display their creative exhibits in a convivial atmosphere filled with music.
The end of January is home to the very popular Galle Literary Festival. This is a special four-day event that welcomes world-class writers and audiences from all around the world. Visitors can take part in and witness a host of talks, workshops and literary events at venues in and around this heritage city—Galle.
Independence Day, celebrating independence from Great Britain in 1948, falls on February 4. For the celebration Parades, dances, processions and national games are organized all over the island. But the main event is held in Colombo, attended mostly by political and administrative officials.
Started in 1979, the Gangaramaya Navam Perahera has since developed into one of Sri Lanka's finest Perahera . Held at night on Navam Poya at the Gangaramaya Vihara in the heart of Colombo, it's a popular tourist attraction.The perahera can be viewed from stands located along the roadside of the procession's route. The fascinating preparations, particularly the arrival of over 100 tame elephants at Viharamahadevi Park, can also be observed.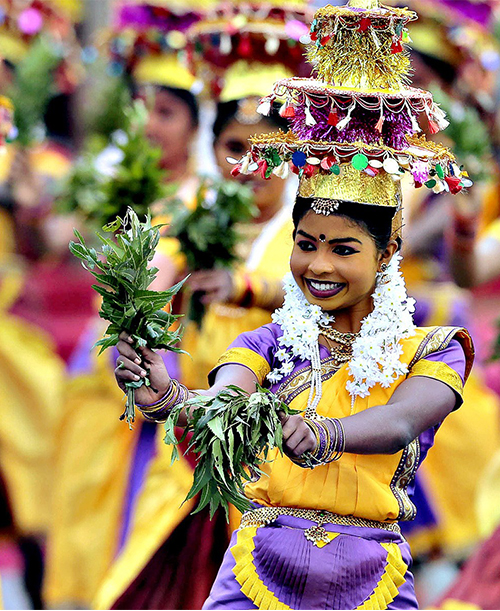 The Hindu festival of Maha Sivarathri, "The Great Night of Shiva", is celebrated in late February or early March in Hindu homes and temples across the country. This is the most important religious festival of the year for Shaivites, who comprise the majority of Sri Lanka's Hindus. It is a deeply symbolic occasion celebrating the charming of Lord Shiva by his consort Parvati through penance. Poojas are held at kovils during the day and can be witnessed by visitors.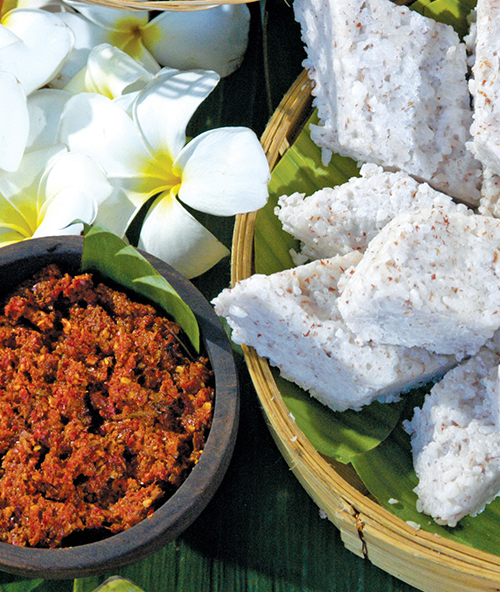 Sri Lankan New Year, which occurs usually on the 13th and 14th of April, is a non-religious festival celebrated by both Sinhalese and Tamil people in Sri Lanka. Originally a harvest thanksgiving, it does not begin at midnight on the designated day, because, like many events in Sri Lanka, the precise ('auspicious') timings are decided upon astrologically.
It's believed New Year commences not when the old one ends, but a few hours later. The interval between the old and the new is called nonagathe, or "neutral period", during which all activities cease. When the New Year commences, fresh activities begin: a fire is lit for cooking and new clothes are worn. Then comes the ganu-denu, or "give and take" in which money is exchanged.
The festival culminates when oil is mixed with herbal paste and a respected elder anoints the head of each family member.
During the festive period traditional games, both indoor and outdoor, such as kotta pora (pillow fighting) and havari hengima (hiding the wig) are played at homes and villages. The festival and its rituals help to bring families and communities together.
The most important Buddhist full moon day is in May – Vesak Poya – which marks the Buddha's birth, enlightenment and passing away (Pariniwana). Large pandals (bamboo frameworks) hung with pictures depicting events in the life of the Buddha are erected in the streets, illuminated by flashing coloured light bulbs. Roadside dansalas (stalls) offering free food and soft drinks to passers-by are notable features of the event. Among the many striking Vesak decorations are intricate paper lanterns of different shapes and sizes, and little clay coconut oil lamps (pol-thel pahana) that flicker throughout the island. Visitors to Sri Lanka at this time will not fail to witness and be moved by the beautiful displays of lanterns outside every Buddhist home, business and temple.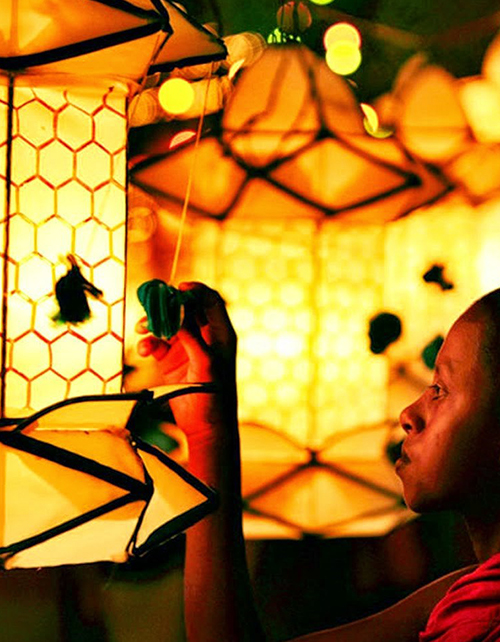 Poson Poya is second in importance to Vesak since it commemorates the introduction of Buddhism to Sri Lanka in 247BC. The focus of this festival is the ancient capital of the country. Anuradhapura, and the mountainous Mihintale Temple, reached by 1,840 steps. During Poson, the mountain is illuminated and devotees climb steps in their thousands to pay homage to the event.
Sri Lanka's most prominent religious festival is the magnificent Kandy Esala Perahera.It is held in the hill capital of Kandy over 10 days in late July to early August and climaxing on Esala Poya.
The perahera's origins date back to the third century BC, but the modern event originated in the mid – 18th century.
Today, thousands – including many visitors – flock to Kandy during this dazzling ten day festival, where,
the Maligawa Tusker carries the gold casket containing the relic accompanied by fellow elephants, human dancers ,touch bearers ,whippers etc.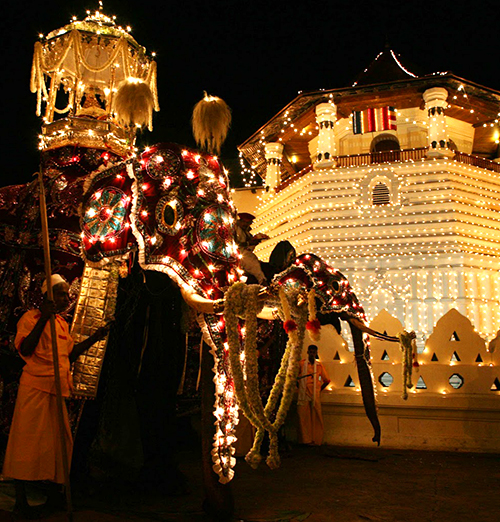 Sri Lanka's most prominent religious festival is the magnificent Kandy Esala Perahera.It is held in the hill capital of Kandy over 10 days in late July to early August and climaxing on Esala Poya.
The perahera's origins date back to the third century BC, but the modern event originated in the mid – 18th century.
Today, thousands – including many visitors – flock to Kandy during this dazzling ten day festival, where,
the Maligawa Tusker carries the gold casket containing the relic accompanied by fellow elephants, human dancers ,touch bearers ,whippers etc.
The air is filled with the pulsating throb of a multitude of drums, the ethereal-sounding wail of wind instruments, the wicked crack of whips, even the occasional trumpeting of an elephant. There is quieter participation too, from stilt walkers, acrobats, and the most aesthetically pleasing and traditionally important of all the performers, the dancers.
In the southeast of the island, the sacred site of Kataragama is brought to life with its unique annual Esala Festival,
The festival commemorates the victory the six-faced, 12-armed Hindu war god, Skanda.
Naturally, many Hindu devotees make the pilgrimage to the shrine, but Buddhists, Muslims and some Christians also honour this god. During this 10-day festival pilgrims demonstrate their sincerity by performing astonishing acts of penance and self-motivation. These include walking barefoot atop hot coals and spearing themselves with hooks.
At Dondra, Sri Lanka's southernmost point, just five kilometers from Matara, a notable festival dedicated to Lord Vishnu featuring low-country dances, traditional rituals, a perahera and a handicrafts fair, is held in July. During the same month and commencing on the Easala Poya Day is a seven-day festival with a perahera in Unawatuna, near Galle, where devotees descend on the village and beach. At Bellanwila, just south of Colombo, another perahera takes place during the week-long poya festivities held at the historic Rajamaha Vihara.
Hindus celebrate a festival known as Vel in July to mark the triumph of Lord Murugan (another aspect of the war god Skanda) over evil powers. A magnificent silver-plated chariot bearing a statue of Lord Murugan leaves a kovil in the Pettah, a commercial district of Colombo, and is lead by procession to another kovil in Bambalapitiya, followed by musicians and devotees smashing coconuts and singing songs of praise to Lord Shiva. Along the route there are stalls selling sweet delicacies, souvenirs and handicrafts to passers-by.
The Munneswaram Temple, three kilometers from Chillaw, is another focus of celebration for Hindus in July as they celebrate with fire-walking in devotion to Lord Shiva while another small festival is held at the seaside shrine of Udappuwa.
The Nallur Festival in Jaffna in August is the island's longest festival. Spanning 25 days of vibrant chariot processions, drumming, dancing and acts of self-mortification, held in honour of the war god Skanda.
The Festivities on the Beach are a rare occasion where a blend of music, art performances, kite festivals, surfing, beach parties, weddings and leisure activities take place. The magical experience on the beach will lift your spirits becoming a feast for your eyes ! come, and explore the wonder !
The Hindu festival Deepavali, the Festival of Lights, (known in India and elsewhere as Diwali) celebrates an aspect of the epic poem Ramayana – the homecoming of the Indian prince Rama,after a 14-year exile in the forest and his victory over Lanka's King Ravana.
In the legend, the people welcomed Rama by lighting rows of lamps, and that's exactly what is done today. Devotees all over the country wear new clothes and cook sweet dishes to propitiate the goddess of wealth, Lakshmi, who is also associated with the festival.
December brings the Sri Pada (Adam's Peak) pilgrimage season.
Buddhist, Hindu, Muslim and Christian pilgrims climb the 2,234m mountain to a temple that bears the 'footprint' of the Buddha, Lord Shiva or Adam, according to the different religious beliefs. This is yet another example of how the different faiths in Sri Lanka share sacred sites and symbols harmoniously.
The climb begins from the village of Dalhousie shortly after midnight in order to reach the summit by sunrise, when a spectacular triangular shadow of the peak, known as the ira-sevaya or "service of the sun," foreshortens in spectacular fashion.
Uduwap Poya marks the planting of a sapling of the bo-tree — sri maha Bodiya – under which the Buddha gained enlightenment. Today it is one of the most sacred relics of Sri Lanka's Buddhists and is considered to be the oldest documented living tree in the world. Devotees flock here to pray and to perform other religious rituals.
Muslim festivals follow the Islamic lunar calendar. Having either 354 or 355 days in a year, the lunar calendar is shorter than the typical solar/ Gregorian calendar. This means that Islamic holy days retreat at a rate of between10 and12 days each successive solar year, and therefore have no fixed day. Each Muslim celebration typically includes prayers and sermons at the mosque, the distribution of alms and family-orientated celebrations. Muslim festivals are typically held without much public display and with little involvement outside of the Muslim community.
The most important festivals in Sri Lanka are:
Milad Un Nabi or Prophet Mohammed's birthday,
Id Ul Fitr or the end of Ramadan,
Id Ul Alha or the Hajj Festival day.
At Milad Un Nabi, Muslims celebrate the birth of the most important Prophet in Islam by listening to speeches about his life and his teachings.
Id Ul Fitr marks the end of Ramadan, the holy month of fasting, with festivities that often go on for three days.
The celebrations surrounding Id Ul Alha, a festival to commemorate Abraham's willingness to sacrifice his son Ismail as an act of obedience to God, often go on for four days. During Id, Muslims recite special prayers, exchange gifts between families and friends and prepare special meat dishes that are shared with the poorer Muslim community.